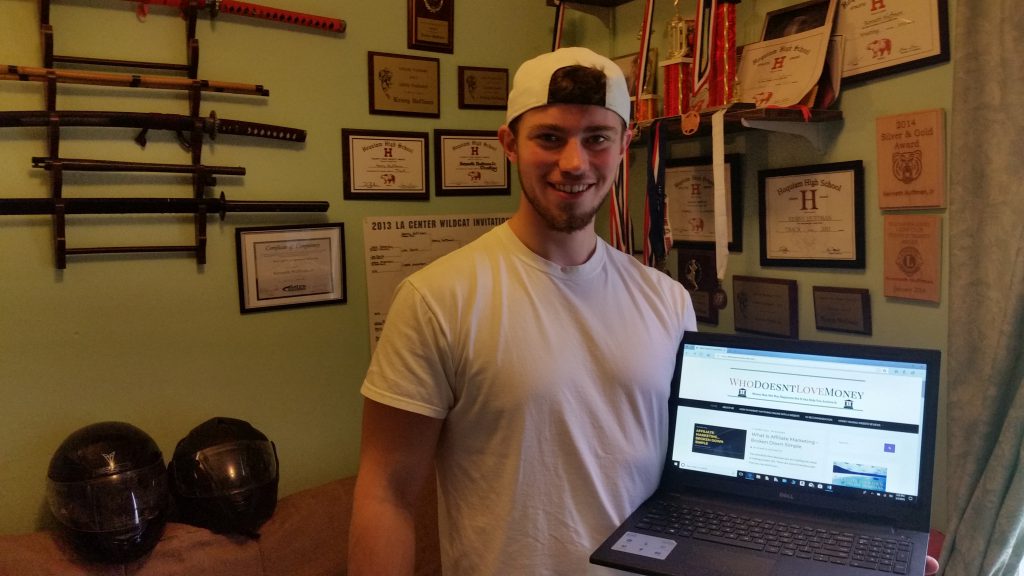 How's it going, I'm Kenny, this is my website, WhoDoesntLoveMoney.com, I built this site to help anyone that is looking to build some kind of online income. There are going to be different levels of income that can be made online with different products and different programs that pay different amounts.
When you can learn to take the programs and products that you actually like, the ones you actually use, and promote them with a website of your very own, you end up with an online business that is built around you and things you actually enjoy using.
My STORY
---
I'm no different from anyone that happens to read this, but choices I have made have put me in a pretty good position… Choices you can still choose!
I was raised to do what I thought was right and to never leave a task unfinished, I know a lot of people that start something and never ever, I mean ever, touch it again after they put it down, that is something that has always puzzled me… How can someone just give up on something after they already started it? If I just described you, well… You have a couple options… Leave my website, or change your attitude and see if your overall life changes…
If you are still here, you are probably going to finish this whole page and I hope you do..
I am currently 21 years old, at the age of 8 I started karate lessons at my local karate dojo, by age 12 I earned my black belt (Junior Black Belt, Upgraded When I turned 18), I stayed and helped teach until I was around 15, when school sports became my main priority, Football, Wrestling, And Track. I am a prime example of going from nothing to something with hard work. I was and am pretty horrible at just about everything when I first try, but one thing I am good at is sticking with something until I become really good at it.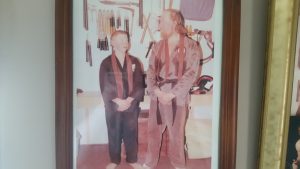 Each one of my sports, I started with no skills, but by the end of each one of them… I was pretty good. Every sport I participated in, I was voted captain of my senior year. From nothing to something is what I live for! My attitude has never changed and it never will!
After High School, I worked for a year then went to Bates Technical College where I became a certified power sports and equipment technician, basically giving me a pretty good mechanics background, one that I continue to grow every day, but I never wanted to HAVE to work as a mechanic, I wanted to be able to fix my own problems without giant shop fees…
This being said, I tried out a shop (Not a clean one…) and I turned down the offer… I have never been much of a fan of working FOR others, I love working WITH others, this was not a place I felt that… I wanted to work for myself, maybe flipping bikes or something, but even that wouldn't give me the life I truly wanted…
I had actually looked for work online right out of high school, where I knew there was going to be a way to earn me a lot of money quickly… I found out quickly that if you want to spend all your money on a program, make sure you love the program… I signed up with MCA (Motor Club Of America) that sells road side assistance, but for extra, you can join their affiliate program and earn commission to promote MCA, however, they didn't teach me how to promote very well… Long story short, I quit MCA and my real life career started…
I am glad I failed with MCA and I am glad I went to technical college!
After college and hating the work life, I found a website that told me about creating your own website to promote whatever you want to make money… This website explained to me the process of what is called "Affiliate Marketing" where you promote a product from a larger store and send your readers to the store when you recommend it, when they purchase your recommendation from the website you sent them to, say Amazon.com or Walmart.com, you earn a % commission with every sale.

The whole process is building a website around a certain group of products that you review and allow your readers to take your opinion and either follow through and purchase or leave your site with a little more knowledge. You then can build your authority of your website by creating more content that further helps people that are looking for information that you have.
I joined this program and built SupplementsToGetStronger.com, my first website that I was ready to become rich with… Well long story short, I made about $25 with that website so far, so I gave up and built this one right here! WhoDoesntLoveMoney.com! Honestly, Who Doesn't Love Money? I made a little over $500 in my first year with this website, while my mind was split working on the supplement site…
Soon, I was running out of money to pay for my hosting and membership fee, so I had to get a job! Remember what I said about me not giving up? Building a website to make money was the coolest thing I have ever learned, I could not give up my hard work, so I got a seasonal job (4 months) working with Salmon that helped me pay my fees and kept me above water for the rest of the year.
As time went on, I learned I could build websites for businesses, that didn't have a website, for cash! So that is what I did, I went to one of my local restaurants and asked if they had a website, she said no, and the talks began.
My very first website I made for someone else to make me money was made for an initial $300, then $50 after that every month to manage and update events. I have since changed my income to food credit, I don't mind walking in for a free meal, once in a while!
I was going to do this for a bunch of businesses but I decided to jump back into affiliate marketing and chose Nerf Guns as my new "Niche" or category. I chose to review Nerf Guns because my nephews are Nerf Gun freaks, so what better way to mix family and work! I have lots of plans for future videos for extra promotion in the future!
After try number 4, I started seeing traffic, real traffic and sales, real sales, Amazon.com affiliate sales.
Oh, NerfGunRUs.com is my Nerf Gun Site if you want to check it out!
WHY I WANT TO HELP PEOPLE
---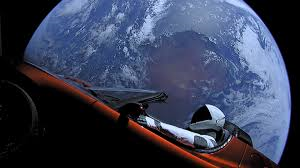 I am only 21 years old and I know that the future is going to be crazy! Crazy in an awesome futuristic way, I mean we have a Tesla Roadster on it's way to The Asteroid Belt right now! That is the kind of future I am excited for, not the future of going to a factory or going to any kind of job and doing the same repetitive task over and over, day in and day out, that is not a life I ever want to live, nor do I think anyone should live.
I want to help anyone that is willing to do the work required to build a website and put in the effort to do what is required to take their website and scale it into a full steady online income. A full steady online income can be $50 a month, or $500 a month, or $5000 a month, I don't say this to tease you, but understand once you make your first sale, you can make another, if you can make 1, you can make 1000. I promise!
I want to help people build an online income because that is what my mentor did for me! Actually, my mentor didn't really help me at all, that is why I want to help you, I want to be the guide that I didn't have. However, I'm not saying I didn't have a mentor, my program has over 1.1 million members that help each other out, I talk to the top 200 for the best answers and guess where I ended up… Top 200! I've made it all the way to rank 38 but maintenance​ is hard when everyone is looking to gain ranks as they help new members.
THE GOAL OF MY SITE
---
Who Doesn't Love Money… It says it right in the title. If you want to make money, doing it online is the right way, doing it online with a website of your very own that is built with your work and efforts is going to make you money. Making money can be different for everyone, I want to make enough to live the life of luxury until my last day on this Earth. What kind of money you want to make is going to determine where you put your efforts.
Learning how to build websites is one of the best things I ever learned. Not only can I build websites for the purposes of affiliate marketing but for any purpose I find where I need a website, and the best part is… I dont have to pay anyone to build it for me! I have recently jumped into the real estate market… Guess what… I will have a website for that soon!
I want to help you make money, by learning how to build a website for any purpose you want. I want you to click the banner below with my pretty face on it and fill out the form on the next page, you will be brought to Wealthy Affiliate's free sign up, no credit card info is required, simply sign up and you are in! I will be leaving you a message about an hour after sign up, so take your time to fill out your profile and explore the Wealthy Affiliate community and overall platform.

Think of Wealthy Affiliate as a home base for online entrepreneurs.
I'm here to help you succeed!
All the best,
Kenny
CEO Of WhoDoesntLoveMoney.com