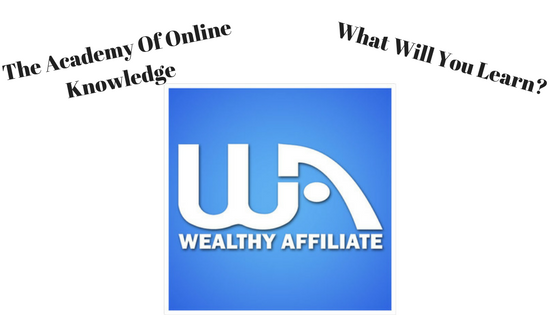 If you are interested in learning to start your own business from scratch to earn yourself an online income. Wealthy Affiliate teaches you to build a website, and then monetize it… However YOU want. All the tools and training are available to you, whether you take the time to learn and apply everything is up to YOU.
Program: Wealthy Affiliate Online Marketing Platform
Price: Starter Membership – Free
Premium Membership – $49/Month
Platinum Membership – $359/Year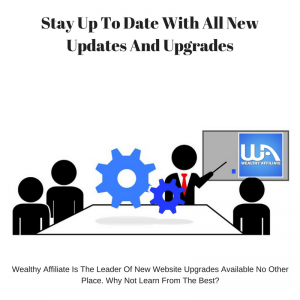 Website: WealthyAffiliate.com
Reason For Joining: 
Website Building
Website Ranking
Website Traffic
Website Monetization
Domain Registration
Domain Hosting
Keyword Domains
Search Engine Optimization
Pay Per Click Campaigns
Social Media Marketing
Overall Marketing Knowledge For Complete Beginners Or Experts Looking To Try Another Program
---
A Little About Me And Wealthy Affiliate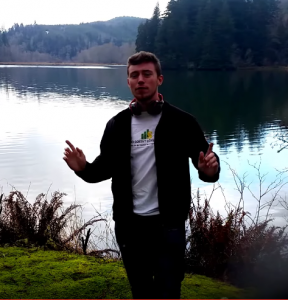 I'm Kenny, creator of this website you are on right now, WhoDoesntLoveMoney.com. Let me also say, I am only 21 years old and I found Wealthy Affiliate several days after my 20th birthday. I have always been interested in learning to make a lot of money so I could fund the things I really want to do.
I grew up with the internet, I went through no internet in my house, to dial up, to some slow satellite service, to what I have now. When I was growing up, I always needed a faster internet speed for the better games that came out, so of course my parents upgraded every time, I mean the internet is awesome, you got to try to keep up with it. Anyways, what I am saying is, as I grew up with the internet, I was seeing all these people becoming millionaires… from the internet.
I have followed so many people that preach the same thing, hard work will get you success, quitting will get you nowhere. I have followed through on that my whole life. Any task that was beatable, that was my main target. Seeing more and more people earning a success online had me needing to know… How!
I tried several programs that preached they could make me rich in a few months, but I was only 18,19, I didn't have any money to invest to become rich, so I tried some low cost ones, signed a bunch of papers, sent them in, and became an "Official Member."
Most Stress Of My Life. I signed papers and sent them into some company…
I quit doing that program and decided to never send paperwork anywhere again like that, I mean we are talking about the internet and I needed to send in paperwork…
Let's get back to the positive.
When I found Wealthy Affiliate, I was on a site similar to my site here (but obviously not as good 😉 ), that was telling me about Wealthy Affiliate and how it had turned his life around. I didn't really care about his life, I wanted to become rich… Sooo, I read what else he had to say about Wealthy Affiliate…
---
What Is Wealthy Affiliate?
In my most honest opinion, Wealthy Affiliate is the home base for all your online business. You get all the training you will ever need to know about any tool inside of Wealthy Affiliate and any useful tools outside of Wealthy Affiliate you can use and should use. Such As:
SiteRubix SiteBuilder – Website Builder
SiteContent – Content Creator
Product Selection (Over 500 Million Options, You Choose)
Google Analytic
Google Search Console
Bing Webmaster Tools
Social Media Mastery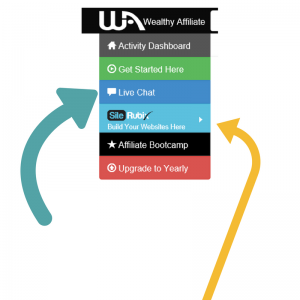 You log into your websites safely and securely through Wealthy Affiliate's SiteRubix personal website manager. You have access to talk to any member within Wealthy Affiliates growing member list, currently over 1.1 million members, and I highly recommend chatting with members in the live chat as soon as you sign up, to learn all you can, most of them will probably tell you to start with the first level of the WA training and they are right. That is the first place you should start, and ask questions the whole way. (Also Check Out The Top 200 Members, They Are Smart And Good At This)
More specific, Wealthy Affiliate is an online marketing school that teaches you how to build a website from scratch and become the boss of your entire online business (website). Once you have a website, there are tons of ways to grow, promote, and profit from your business or even businesses.
Once you have your website created, you will be taught to create content, like the stuff you are reading right now. You can do this with words or even video, either way you get your point across and your reader understands. You can create an entire website with hundreds of posts, but if you don't learn to people use SEO (Search Engine Optimization), then your website won't be sitting on search engine pages soaking up readers, informing them of the topic they want to read.
I just mentioned SEO, that is one major way to get traffic to your website and that is the main teachings at Wealthy Affiliate. You may often hear advertisers say, "Auto Pilot Earnings" or something like that, well basically if you can get your pages ranked right, and earn enough site authority in your niche, basically a year later, you can have a site that sits #1 on Google that collects you traffic daily, which is basically going to earn you money automatically for the work you put in 9 months ago, 2 years ago, 10 years ago, but you have to start somewhere.
Affiliate Marketing – Helping your readers fix a problem or otherwise recommend a product or service that will help them in their situation. You provide a link to help them easily purchase your recommendation(s), there is nothing wrong with you earning a little commission of the products that helped your readers/viewers.
*Don't Scam People, Help The People That Want To Be Helped.
Wealthy Affiliate's Training Courses
*2018 New Year Challenge! The First Level Of Both Courses Is 100% Free With No Credit Card Required To Get Access.
Right Now, I want to challenge you to create a Wealthy Affiliate Account, choose one of the free courses, and get your website started. The guy you just read about above (Me, Kenny), I'm a very helpful mentor, I really want to help you, if you can sign up and ask me questions, I will answer then, personally!
Online Certification Course (5 Levels)
This Course Takes A Personal Interest Of Yours And Turns It Into A Thriving Online Business.
Level 1 – Getting Started (10 lessons)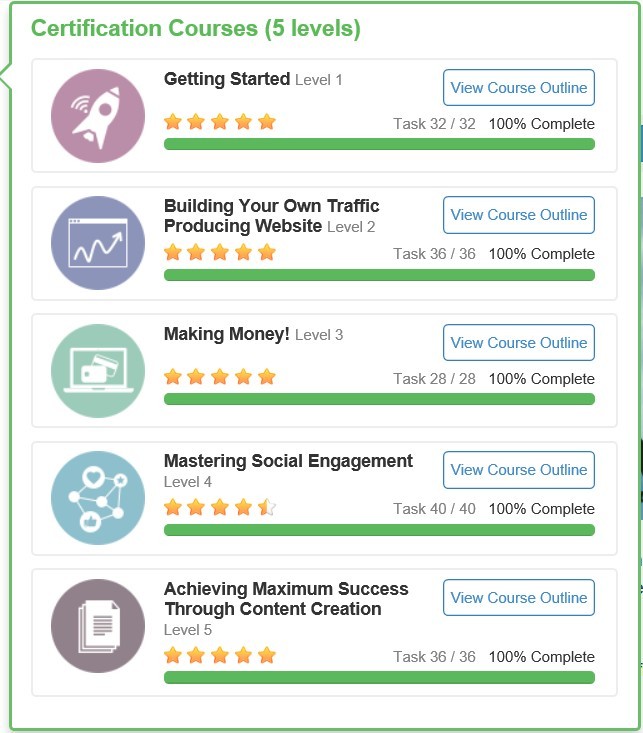 This is a 100% free level included in the free starter membership that is extremely important to anyone looking to start an online career. You will learn how making money online works and you will build the foundation to your very own website.
Level 2 – Building Your Own Traffic Producing Website
When you have a business, whether it be online or offline, you also have a brand. This course teaches you to set up Your Brand. WhoDoesntLoveMoney.com is just one of my brands.
Level 3 – Making Money!
Once you have a website set up and have people visiting it, you obviously want to make some money! Otherwise, what are you doing here? Affiliate Marketing, Advertisements, Product Reviews, Pennies Vs Dollars…
Level 4 – Mastering Social Engagement
One of the main things you need to understand is, Real People come to your website, your business. You need to learn how to keep them there longer and how to get new ones to show up. Getting people to engage in what they are reading, make them step back and think, wait, what?! Did I just learn something new, I need to tell someone else! The better you become at Social Engagement The Better, what better to engage socially then Social Media, Facebook, Twitter, Instagram, YouTube, Pintrest… The More You Learn To Master Social Engagement The Better…
Level 5 – Achieving Maximum Success Through Content Creation
If you actually go through the prior levels and get a good understanding of building your website, engaging with your readers, and how money works, by this point, you should be locked and loaded to make money, through content creation. When you can create a helpful article that has NEVER been written before and people actually read and share it, you have a potential to do that over and over and over, making you money every single time, for a long time to come!
My Example And Proof Of This Training: NerfGunRUs.com
---
Affiliate Bootcamp "Even More Business Oriented"
(7 Phases)
There Is No Overall Constantly Improving Platform That Compares To Wealthy Affiliate's  Platform, Learn To Market With WA To Earn The High Commissions. Recognize The Opportunities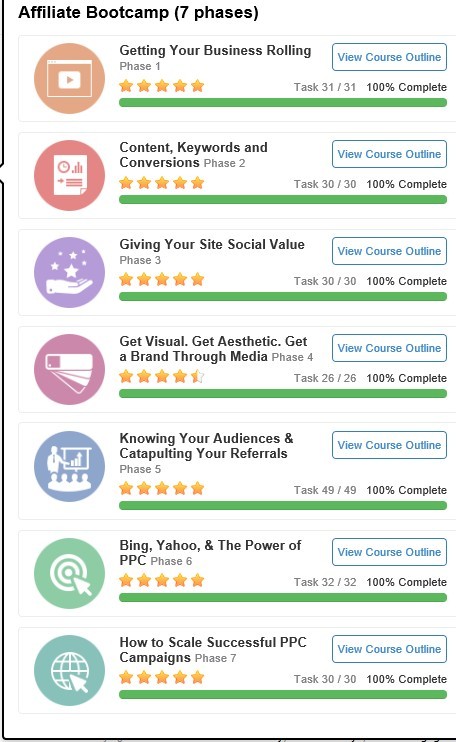 Phase 1 – Getting Your Business Rolling (10 Lessons)
This Phase is 100% Free included In The Free Starter Membership That Is Crucial To Understanding Affilaite Marketing.
Phase 2 – Content, Keywords and Conversions
When you are ready to start competing with other sites that want the same readers as you, you need to narrow down your target… with Keywords. Anytime you search anything in a search engines, you are using Keywords to help narrow down your search, learn to use them to market!
Phase 3 – Giving Your Site Social Value
When your ready to start to show your business off to the world, you need to be able to easily share your content on social media, learn to leverage people searching for what you have to offer… On Facebook, Twitter, Instagram,
Phase 4 – Get Visual. Get Aesthetic. Get A Brand Through Media.
When you can proudly say you know something, you can say it in front of tons of people. WA teaches you what you need, now tell everyone what you know. Promote Your Brand!
Phase 5 – Knowing Your Audiences & Catapulting Your Referrals
The idea of knowing how to target people that want to do something you do is so simple and the more you understand the people that want what you have to offer the more referrals/commissions/money you will make.
Phase 6 – Bing, Yahoo, & The Power Of PPC
In my opinion, the best Pay Per Click Training You Can Get. The Wealthy Affiliate Pay Per Click Training Teaches "Hyper Targeting" that ensures your money is spent on people that want to read what you have to say. This leads too much more sales/commissions/money.
Phase 7 – How To Scale Successful PPC Campagins
Once you have an advertisement sent up with Pay Per Click and you have one that is converting very well, you scale it, crank the heat up. turn it into an even more profitable ad for you. Its already making you money, put that money back into your ad to make sure you make even more!
My Example And Proof Of This Training: Your On It!
*Highly Recommended combining The Knowledge Of Both Courses For Ultimate Success!*
---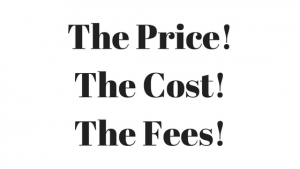 Wealthy Affiliate Membership Fees:
Free Starter Membership – Free
With The Free Weatlhy Affiliate Starter Membership you get Level 1 Of The Online Cerification Course (10 Lessons), Level 1 Of The Affiliate Bootcamp, 7 Days Of Live Chat, 2 Free Websites And Access To Me And The Community.
Premium Membership – $49 Per Month
With Weatlhy Affiliate's Premium Membership, you have access to all 5 courses of The Online Certification to learn how to launch your very own brand and make money helping people with knowledge you already know, then recommending them products, All 7 Phases of the Affiliate Bootcamp to ensure you know how to launch a successful business and grow it all the way to the top, Full Site Security (SSL), Full Hosting Services, Unlimited Live Chat, Member Bonus, Ambassador Bonuses, All Expense Trips To Vegas, Full Access To All Of WA's Platform.
Platinum Membership – $359 Per Year (Do The Math)
Huge Discount And Huge Commitment To Starting And Never Giving Up On Your Very Own Business. Yearly Platinum Members Do Receive A Platinum Member Bonus…
If you want to know what I did…
When I first signed up with Wealthy Affiliate, I did the free trial membership, I went through the first level of the online certification course, got my first website started and I was kind of hooked. When you sign up for WA's premium membership in the first 7 days, you actually get a discount and its only $19 for you to try the full premium package, that is what I did.
I hustled thorough phase one of The Affiliate Bootcamp to make sure I was going to get my money's worth, created WhoDoesntLoveMoney.com, it was rough at first, but I have come a long way, paid the $19 for my first month, and I was hooked, I couldn't give up my sites, I created them… They. Were. Mine.
And Always Will Be!
Now, I am a full Pledged Platinum Member, I plan to be a member of Weatlhy Affiliate the rest of my life, I always wanted to learn how to build websites and help people at the same time. With the internet, there is always room for more helpful websites to earn helpful website creators a good amount of helpful money.
Because Honestly… Who Doesnt Love Money?
Thanks, For Reading, If you plan to sign up with Wealthy Affiliate, I will message you on the inside, be sure to reply!
Kenny
Creator Of WhoDoesntLoveMoney.com