In Todays World, Money Is The Number One Thing That Everyone Wants.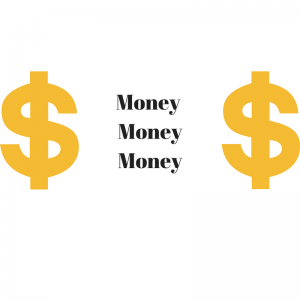 Everyone is willing to work for money, everyone is willing to spend money, everyone loves money. Come on, my website is called Who Doesnt Love Money. Everyone Loves Money.
Now The question Here Is, Does Money Make You More Confident? 
Lets start off with the definition of confidence: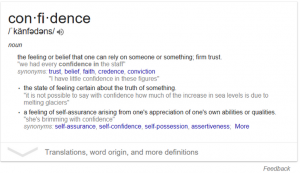 "The Feeling Or Belief That One Can Rely On Someone Or Something"
If you take that definition of confidence and put it on money, can you rely on it? Will Money always be there for you in any situation? Will Money make you feel secure when you have nothing.
The truth is, money will not do any of those things for you, because the only way to get money is by having confidence in the source making the money.
The reason I am writing this post, is to explain that money is not the confidence that you should be seeking.
If you take the definitions above and read the last one:
"A Feeling Of Self Assurance Arising From One's Appreciation Of One's Own Abilities Or Qualities" 
This is in my opinion, the true definition of Confidence.
If you can learn to believe in your own abilities, learn new ones, never give up on yourself, and continue to improve your own self everyday. I promise you that money will gravitate toward you.
Money Does Not Make You More Confident. Confidence Will Attract Money.
If you can firmly believe in anything you do, then your confidence is there and the only thing you can do with it, is continue doing what you believe. There is going to be doubters in everything you do, this is because they do not have the confidence that you do.
Successful Individuals have much higher increases in confidence when they can finish and complete tasks on their own. This is why you find so many low confidence people, they don't finish anything on their own. They have no way to boost their own confidence.
Just Having Money Will Not Make You Confident.
Knowing How You Earn Your Money Will Make You Confident. 
Learning how to make a lot of money and actually working toward goals is how you will gain confidence. If you can work hard and see progress, progress is not only in your tasks but how you feel after you finish your tasks.
I make money online through websites like the one you are on now.
I am confident in everything I do, not because of the money I make, but the hard work  I put into making that money.
There is no get rich quick scheme out there, that will land you millions over night. Boy, wouldn't that be nice. There are no programs that pay you hundreds just for signing up, wouldn't that be even better, but I do no that there are ways to put in hard work and effort to make money online.
Its not quick but it is a sure way to make money online.
---
Thank you for reading my post, believing in yourself and achieving tasks on your own is what will lead to confidence, if you can become confident, you will never give up on what you desire to do. My desire is to make a lot of money to improve my future and have lots of fun with my life, I don't plan on stopping anytime soon!
Tell me what you think, give me a comment or a question below and I will get back to you as soon as possible!
Thanks,
Kenny
Creator Of WhoDoesntLoveMoney.com